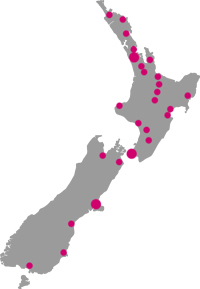 Comfort and confidence are only a phone call away at Breast care products. Call 0800 264 822 to arrange your Consultation.
Breast care products provide appointment based consultation facilities throughout the North island, all locations have good free parking.
Home visits are available by arrangements for those women unable to make appointments. Our qualified mobile consultants travel to many areas around the North Island, from Kaitaia to Wellington, presenting our full range of products from Anita and Amoena.
For the South Island, we have established experiences providers from Nelson to Invercargill.
Ready to book your consultation?
Subscribe to our newsletter
Registered Ministry of Health Providers